10 MILLION EUR IN SERIES-B: MICHELIN IS INVESTING IN CAMPER MARKETPLACE CAMPANDA
---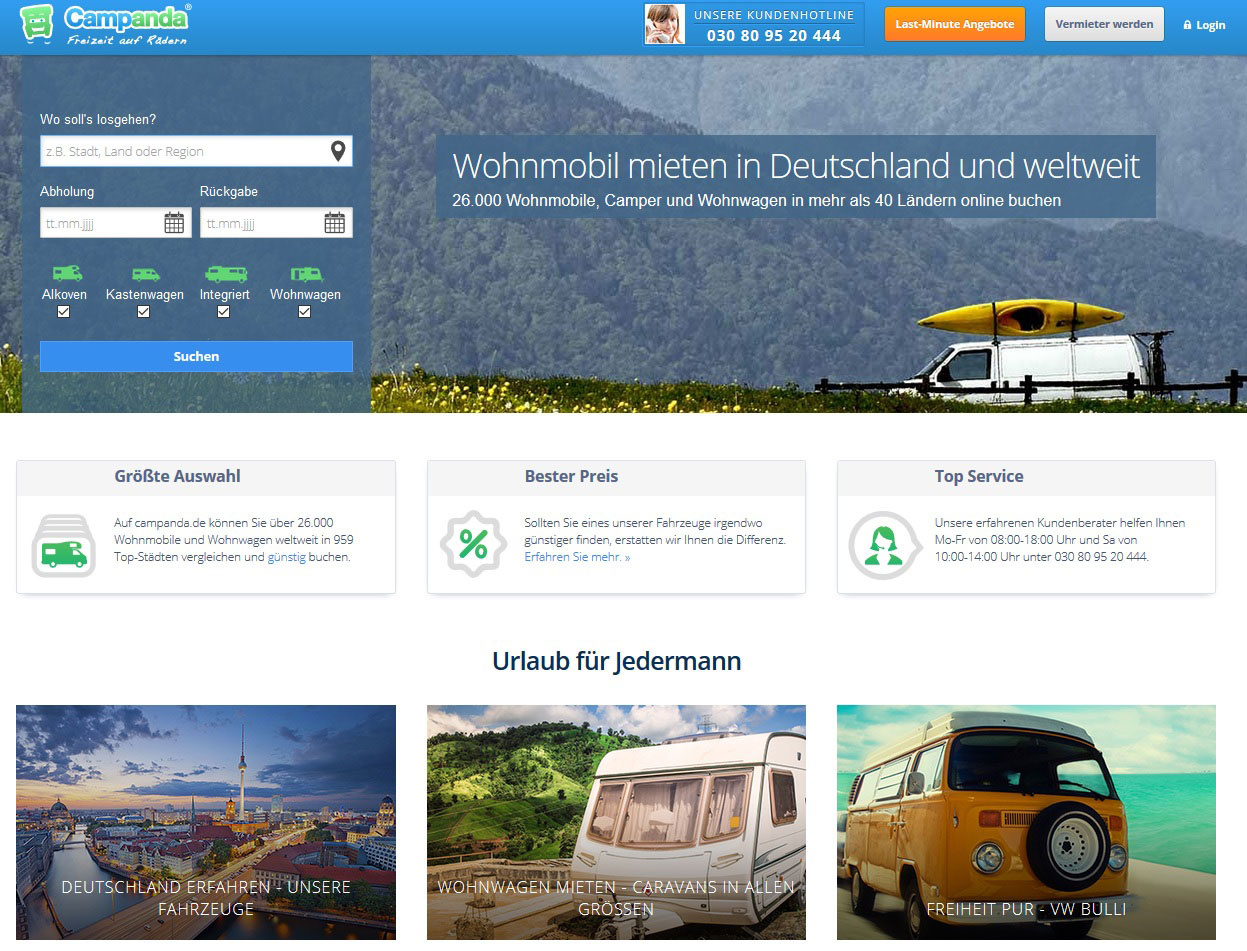 Berlin, January 10, 2017 – Campanda, the international platform for renting mobile homes and caravans, releases the outcome of the Series-B investment round. Under the direction of the daughter company of the tire manufacturer Michelin, Michelin Travel Partner, is investing ten million euro in the Berlin startup for further growth. Next to Michelin, all previous investors took part in the round: Accel, Idinvest Partners together with Ecomobility Ventures, Groupe Arnault, Ringier Digital Ventures, b-to-v Partners, Atlantic Labs.
Campanda is the world's largest marketplace for RV bookings. In 44 countries and six languages, Campanda provides its users the easy and comfortable possibility to rent RVs in the country of your destination. Not only commercial RV companies have the opportunity to rent out their caravans on the platform, but recently also private vehicle owners.
Campanda plans to use the new capital to expand the current team of 45 employees, to enter new geographical markets, and to extend the currently fleet of 26,258 vehicles. "It fills us with pride that, with Michelin, we have found a further renowned investor for Campanda," says Chris Möller, founder and CEO of Campanda in a statement. "Just like our existing investors, Michelin shares our understanding of travel in the 21st century: to plan and book online while also sustainably harnessing existing rental resources."
With the latest capital injection the total investment for Campanda rises up to 17 million Euros. After several Angel investments to the start of the marketplace in 2013, Campanda received EUR 5 million in May 2015 under the leadership of Idinvest Partners together with Ecomobility Ventures.
About Campanda
Campanda has become the world's largest online platform for renting RVs since its founding in 2013. Currently available more than 26,258 vehicles are available in over 42 countries. The offer ranges from Compact box-wagon to the luxurious and fully integrated premium vehicles.
On www.campanda.de, customers have the opportunity to rent RVs and rent out their own vehicles. Campanda works with a variety commercial providers and private RV owners. At one glance, the user has an overview of all vacancies with information on the price and equipment of the RV. Interested users are able to book the desired campers directly on Campanda.de with best price guaranteed. Local Campanda websites exist in eight Countries and in six languages so far ​​- German, English (US / UK), Italian, Spanish and French.
Privat users can advertise their own camper on www.campanda.com/rent-your-rv  free of charge and thus profit from the money for the time the customers don't use the RV themselves.